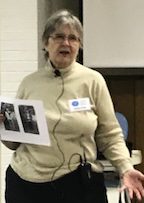 FGGMN Mourns the Passing of Longtime Member/Board Member Jeanne Swope
Jeanne Luoma Swope passed away peacefully on October 25th, 2023, at age 78, after a long illness. She was a reader, a writer and an artist, a student of Finnish, a beloved sister, mother and grandmother, and a good friend. She will be deeply missed.

Born in Virginia, Minnesota on September 29, 1945, she moved to Minneapolis after winning a scholarship to attend the University of Minnesota, where she eventually earned a Masters degree in anthropology. She married and had three children: Maura, Christopher, and Lia. Later she worked as an editor for Continuing Education courses at the University, and attended courses in creative writing and Finnish, as well as joining artistic retreats where she practiced drawing and painting. After her retirement, she became deeply involved with the Finnish American Cultural Activities organization of Minnesota, serving in various roles and editing their newsletter until her illness made it too difficult to participate.

Jeanne was preceded in death by her parents, Reino and Ina Luoma, and her sister, Mary Betty Luoma. She is survived by her children, Maura (Chris) Batson, Christopher Swope, and Lia (Jeff) Mitchell; her grandsons, Jackson and Cooper Batson; her sister Phyllis (Ross) Kiihn and brothers Roger (Jan) Luoma and Wayne (Karleen) Luoma; as well as numerous cousins and nieces.

We are having a small service and visitation at the Washburn-McReavy Nokomis Chapel starting at 1:00 on Thursday, November 2. In lieu of flowers, we are asking that you consider a donation to the Friends of the Hennepin County Library or to Finnish American Cultural Activities.